Recent Ag News
Where should the roads go? New map offers a solution to the 'Pandora's Box of environmental problems'
(08/27/2014) Roads make it possible to bring goods to market, to get to the office, to log a forest, to hunt its wildlife. Without roads, human society as we know it could not exist. However, to build roads, trees must be cleared and swamps drained, shrinking valuable wildlife habitat and fragmenting populations in the process. A new study unveils an innovative map that defines which areas of the world would be best used to build roads – and which should be left alone.


China and Europe's outsourcing of soy production impacts the Amazon
(08/14/2014) Soy consumption in China and Europe is having significant ecological impacts in the Brazilian state of Mato Grosso, finds a study published in Environmental Research Letters.



'Natural Reserves' no more: illegal colonists deforest huge portions of Nicaraguan protected areas
(08/13/2014) In southeastern Nicaragua, abutting the coastal Caribbean town of Bluefields, lie two nature reserves - Cerro Silva and Punta Gorda - that are embroiled in a bitter battle for survival against the speedily encroaching agricultural frontier. The forest is all but decimated here, with disconnected patches whose very existence rests precariously in the hands of its occupiers - both legal and illegal.



A paradise being lost: Peru's most important forests felled for timber, crops, roads, mining
(08/12/2014) In 1988, when British environmentalist Norman Myers first described the concept of a "biodiversity hotspot," he could have been painting a picture of the highly threatened Peruvian Andes mountain range. Today, the Andes are an immediate and looming portent of the fate of the Peruvian Amazon rainforest.



The 90 Percent Diet: reducing our environmental impact by eating less meat
(08/07/2014) In Brian Machovina's life, a serendipitous influence of people and places have all contributed to his current passion for inspiring people to eat less meat. With fewer grazing animals, Machovina's studies show that we could make better conservation and production choices with land that would otherwise be used to raise or feed livestock.



Brazil could meet all its food demand by 2040 without cutting down another tree
(07/24/2014) Better utilization of its vast areas of pasturelands could enable Brazil to dramatically boost agricultural production without the need to clear another hectare of Amazon rainforest, cerrado, or Atlantic forest, argues a new study published in the journal Global Environmental Change.



'Stop using the bloody things': pesticides linked to bee collapse now blamed for bird declines
(07/15/2014) In recent years the evidence has piled up that neonicotinoids—a hugely popular group of pesticide—may be at least partly responsible for ongoing bee and pollinator collapse. But new research in the journal Nature find that these pesticides could also be taking a heavy toll on other species, in this case common birds.



Too much of a good thing: fertilizer 'one of the three major drivers of biodiversity loss this century'
(07/14/2014) The world's grasslands are being destabilized by fertilization, according to a paper recently published in the journal Nature. In a study of 41 grassland communities on five continents, researchers found that the presence of fertilizer weakened grassland species diversity.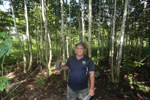 Forests as important as farming for some rural communities
(07/14/2014) Forests have long been assumed to provide an important source of income for many of the world's poor. But determining exactly how forests contribute to rural economies – such as how much income is derived from forests, or how poverty relates to deforestation – has been difficult to pinpoint.



Downturn in shade-grown coffee putting forests, wildlife, people at risk
(07/11/2014) Growing coffee in the shade of forests allows native vegetation to persist, thereby reducing the impact of agriculture on the natural landscape. While production of shade-grown coffee surged in recent decades, it is now experiencing a decline. A recent study analyzed the situation, finding that the growth of consumer demand and changes in coffee agronomy has caused coffee production and management to change drastically.



The last best place no more: massive deforestation destroying prime chimp habitat in Uganda
(07/09/2014) The Kafu River, which is about 180 kilometers (110 miles) long, is part of a vast chimpanzee habitat that includes forest reserves and several unofficial protected areas. However, this region of Uganda is losing a significant portion of valuable chimpanzee habitat, and at least 20 percent of the forest cover along the Kafu River has disappeared since 2001.



Cats' best friend? A new role for guard dogs in South Africa
(07/09/2014) While there has been a surge of recovery and reintroduction programs to combat predator decline, human population growth and limited protected areas have led to increased rates of human-wildlife conflicts in many regions of the world. A study published recently tested the ability of trained guarding dogs to protect livestock in South Africa and found it to be highly effective, protecting humans and predators alike.



Next big idea in forest conservation? Playing games to understand what drives deforestation
(06/26/2014) Dr. Claude Garcia plays games, but you won't find him betting his shirt at the casino. As leader of the Forest Management and Development Research Group at ETH Zürich, Garcia and his team use participatory modeling and role-playing games, merged with more traditional disciplinary sciences such as ecology, economics, and sociology to understand and manage complex landscape change in the tropics.



Is Cameroon becoming the new Indonesia? Palm oil plantations accelerating deforestation
(06/25/2014) The potential for new laws governing the use of forest resources this year in Cameroon promises an opportunity to stem the rapid loss of forest in the biologically diverse country. But the changes may ultimately not be what's needed to save Cameroon's forests.



More is better: high bee biodiversity boosts crop yields
(06/12/2014) Scientists have discovered that blueberry plants visited by more diverse bee species increased their seed number, berry size and fruit set, and quickened their ripening time. They hope their findings encourage farmers to help support local wild bee communities.



In cutting deforestation, Brazil leads world in reducing emissions
(06/05/2014) Brazil's success in reducing deforestation in the world's largest rainforest has been much heralded, but progress may stall unless farmers, ranchers and other land users in the region are provided incentives to further improve the environmental sustainability of their operations, argues a study published this week in the journal Science.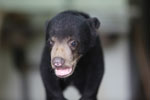 Zero-deforestation commitments pose acute challenges for commercial giants in the palm oil industry
(05/22/2014) The path to zero-deforestation appears to be paved with good intentions, but how successful are these companies in staying on that path? A controversial proposal to construct a refinery in the wildlife-rich Balikpapan Bay in Indonesian Borneo highlights the challenges faced by both palm oil companies and conservationists in the face of zero-deforestation commitments.



Connecting forests, saving species: conservation group plans extensive wildlife corridor in Panama
(05/16/2014) With the cooperation of hundreds of ranchers and researchers, Azuero Earth Project aims to replant a swath of tropical dry forest, connecting the dry tropical forest on the coast to cloud forest further inland. The trees along the 140-kilometer (80-mile) wildlife corridor will create a continuous habitat for the Critically Endangered Azuero spider monkey (Ateles geoffroyi azuerensis) and improve the soil for people who farm and ranch along the way.



Elephants in the midst: warning system prevents human-elephant conflicts in India, saves lives
(05/08/2014) Indian elephants once freely roamed the rich mid-elevation evergreen forests of the Valparai plateau in the Western Ghats, one of the world's mega biodiversity regions, but they can't move the way they used to. Ever-increasing commercial plantations and settlements have become obstacles to the daily and seasonal movements of elephants, creating more chances for often-deadly encounters between humans and elephants.


Commodity eco-certification skyrockets, but standards slip
(05/01/2014) The volume of commodities produced under various social and environmental certification standards jumped 41 percent in 2012, far outpacing the 2 percent growth across conventional commodity markets, finds a comprehensive new assessment of the global certification market.



Intensifying cattle production in Brazil could cut global deforestation emissions 25%, says study
(04/28/2014) Brazil could reduce more than a quarter of emissions linked to deforestation worldwide by intensifying cattle production in the Amazon, argues a new study published in the journal Proceedings of the National Academy of Sciences.



Wild food: scientists link forests to human nutrition
(04/25/2014) Food security is a mounting global issue. As a solution to increasing food scarcity, forests are commonly cleared to make land available for agriculture. Around the world, both industrial farmers and subsistence farmers alike are growing crops on deforested land. However, scientists are finding that the forests themselves may actually be key to providing local populations with higher quality diets.



Despite campaign, Girl Scout cookies still aren't deforestation free, say scout activists
(04/25/2014) Despite a high-profile campaign that caused one of the world's largest food companies to adopt a comprehensive zero deforestation policy, Girl Scout cookies still aren't necessarily free of rainforest destruction and social conflict, say the two girl scouts who launched the protest seven years ago.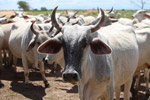 The beef with beef: how 12 strategies could drastically cut agricultural emissions
(04/25/2014) Eating less beef, cutting food waste, and utilizing farm landscapes to sequester carbon are three ways a new report suggests the world could rapidly tackle agricultural emissions. Currently, global agriculture accounts for nearly a fifth of the world's greenhouse gas emissions when agriculturally-linked deforestation is included.



Forests in Indonesia's concession areas being rapidly destroyed
(04/10/2014) Forest clearing within areas zoned for timber, logging, oil palm, and mining accounted for nearly 45 percent of deforestation in Indonesia between 2000 and 2010, finds a new study that examined forest loss within industrial concessions.



Countries / Territories