Recent Ag News
125M ha of degraded lands identified for forest-friendly agricultural expansion
(12/19/2014) A team of researchers has identified 125 million hectares (309 million acres) of land suitable for agricultural expansion that won't come at the expense of tropical forests. The study argues that shifting agricultural expansion away from forests to these 'degraded lands' would avoid 13 billion tons of carbon dioxide emissions that would be released were they converted for plantations, pasture, and croplands.



Impacts of deforestation on Amazonian river ecosystems could be far-reaching
(12/18/2014) A study by researchers in Brazil published this week has found that deforestation in the Southern Amazon may impair significantly the structure and function of rivers, and make them less able to support life.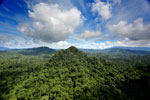 Tropical deforestation could disrupt rainfall globally
(12/18/2014) Large-scale deforestation in the tropics could drive significant and widespread shifts in rainfall distribution and temperatures, potentially affecting agriculture both locally and far from where forest loss is occurring, concludes a study published today in Nature Climate Change.



Deforestation taking toll on nesting birds in Cameroon
(12/17/2014) The tropical montane forests of the Cameroon mountain ranges boast fertile volcanic soils, high biodiversity of grasses and non-woody plants, as well as many endemic bird species that can be found only in this high-altitude region. Yet, many of these endemic bird species may be at risk due to increased nest predation linked with human-induced forest degradation, according to a new study.



Success of 'land sparing' will depend on global economics, regulations
(12/16/2014) Agriculture is the primary driver of tropical deforestation. Indeed, most global food production occurs in the tropics, including important commodity crops such as sugarcane, soybeans, palm oil, and beef. Recent estimates indicate that forest clearing for agriculture contributes significantly to greenhouse gas emissions. This fuels concern over how to balance food production for a growing population with climate change mitigation through conserving tropical forests.


EU adopts law mandating palm oil labeling on food products
(12/12/2014) Tomorrow the European Union will begin enforcing legislation that mandates labeling of specific vegetable oils on food products. The move means consumers will soon know whether the products they consume contain palm oil, canola, or one of many other sources of plant-based fat.



Initiative to restore 50M acres of degraded Latin American ecosystems by 2020
(12/07/2014) A coalition of governments and organizations today pledged to restore 20 million hectares (50 million acres) of degraded forests and ecosystems across Latin America by 2020 under an initiative that aims to curb boost rural incomes, fight climate change, and increase agricultural production. The effort is backed by $365 million from five impact investors.



New endangered bird species discovered in Brazil
(12/04/2014) The Bahian mouse-colored tapaculo (Scytalopus gonzagai) has only just been discovered by scientists in the heavily logged Atlantic Forest of southeast Brazil -- and it's already believed to be endangered.



One-two punch: farming, global warming destroying unique East African forests
(12/03/2014) Lush mountains speckle East Africa's grasslands and desert, from Mozambique to Ethiopia. These isolated habitats are home to a plethora of species, and are considered by scientists to be some of the most biodiverse regions in the world. However, their forests are being cut down for farmland and are threatened by global warming, putting at risk multitudes of species that have nowhere else to go.


Earthworm farming in the West Bank (commentary)
(11/25/2014) From what I'm told, there can't be too many worm farms in the West Bank. Local agricultural experts say they've never heard of the practice. That doesn't mean that someone, somewhere isn't happily vermicomposting -- the technical name for worm farming -- but it's clearly not happening at any scale. After today though, there are at least two worm farms up and running here.



Amazon deforestation moratorium extended 18 months
(11/25/2014) The Brazilian soy industry has extended its deforestation moratorium for another 18 months. The moratorium, which was established in 2006 after a high-profile Greenpeace campaign, bars conversion of forests in Brazilian Amazon for soy production. Independent analysis has shown it to be highly effective — just prior to the moratorium, soy accounted for roughly a fifth of recent deforestation, while today its share is less than one percent.



Ranking the world's best - and worst - palm oil companies in terms of sustainability
(11/20/2014) A new initiative ranks the world's 25 largest publicly listed palm oil companies in terms of transparency around the environmental performance of their operations. The project, called Sustainable Palm Oil Transparency Toolkit, was developed by The Zoological Society of London (ZSL).



Conflict-fueled deforestation, poaching in Assam continue despite truce
(11/19/2014) Northeastern India boasts nearly 44 percent of the country's dense forests, and contains one of the most biodiverse areas in the world. However, the region lost approximately 548,440 hectares of tree cover—more than 3 percent—from 2001 through 2012. Sonitpur, Assam, has been particularly hard hit as people flooded into the area and cleared forest.



Disappearing oasis: northeastern India losing forests as people move in
(11/18/2014) Northeastern India is part of the Eastern Himalaya biodiversity hotspot, one of the megadiverse areas of the world. The region boasts more than 60 percent forest cover, compared to the 15 percent for India as a whole. However, not all is pristine when one visits areas designated as forest on the map.


Ending deforestation won't stop carbon emissions from land use change
(11/17/2014) Even if the world stopped cutting down forests, carbon dioxide emissions from land use change would still pose a major challenge, according to a new paper in Nature Climate Change. The research finds that eliminating deforestation would mean agriculture would be pushed into non-forest ecosystems and still release significant quantities of carbon dioxide.



Shifting the way the world shops (commentary)
(11/17/2014) If you are what you eat, then just as true, you are what you buy. From organic, fair-trade, responsible palm oil, Wildlife Friendly, and most recently deforestation-free, consumers can cast their lot with a variety of eco-friendly labels and define who they are by what they buy. It gives someone in New York City the chance to contribute to forest protection in Indonesia by using their wallets to influence the sustainability of the supply chain that serves them with goods.



Cargill to use drones to monitor zero deforestation commitment
(11/17/2014) Cargill will use Unmanned Aerial vehicles (UAVs) and 'solar-powered, satellite-connected remote sensor networks' to monitor compliance with its new zero deforestation policy for palm oil, reports the agribusiness giant in its first progress report on its recent forest commitments.



Over 60% of world's traded palm oil now bound by zero deforestation commitments
(11/13/2014) Over sixty percent of palm oil traded internationally is now bound by zero deforestation policies after IOI Loders Croklaan committed to excluding forest destruction from its supply chain, says Forest Heroes, a campaign that aims to reduce the environmental impact of palm oil production. IOI Loders Croklaan's parent corporation IOI Group has been aggressively targeted by environmentalists for its links to deforestation and controversies over conflicts with local communities.


Reducing deforestation is good for business, argues report
(11/12/2014) Some of the world's largest companies are making progress in disclosing and addressing deforestation risk within their commodity supply chains, but much work is left to be done to shift to more sustainable practices, argues a new report from the Climate Disclosure Project.



Mapping mistake leaves wildlife at risk
(11/12/2014) Scientists have discovered a new, endangered plant species in the Democratic Republic of Congo (DRC), in an area that is supposed to be protected as a reserve. However, mapping errors effectively moved the reserve's boundaries 50 kilometers to the west, opening up the region and its vulnerable wildlife to human disturbance.



Indonesia's new president, ministers have big plans for fish
(11/06/2014) Indonesia's new president, Joko Widodo (or Jokowi, as he's popularly called) spent half his 11-minute inaugural address thanking God, his partisans and the citizenry at large. For the rest of the speech he talked about oceans. Was this just rhetorical flourish, or does it portend a new seriousness about maritime management?



Perched on the precipice: India's vultures threatened by E.U. sale of killer drug
(11/05/2014) Poisoned by cattle carcasses treated with Diclofenac, India's vultures died by the millions in the 1990s. A captive breeding program is helping to save the once-ubiquitous birds, but the very drug that drove India's vultures to the precipice of extinction has been given a green light in Italy and Spain.



91% of Kenya's protected areas shrank in 100 years
(11/04/2014) Over the last century, 91.7 percent of all changes to protected areas in Kenya have involved reductions in their area, known as downsizing, which is an unusual and remarkable statistic from a global perspective. Analyses show, however, that a variety of factors—including some that which occurred half a century ago—could be responsible for the status of forests in Kenya today.


Reducing tax evasion could help save the Amazon
(11/04/2014) Taxing underutilized land in the Amazon could conserve forests, boost productivity, and alleviate poverty, argues study.



'Too many people': Philippine island being deforested despite extensive protections
(10/31/2014) About an hour and a half plane ride from the Philippine capital Manila is Palawan, a long, narrow island home to about a quarter of all the animal species found in the country. But the province is losing its forests at a rapid clip due to human population increases, logging, quarrying, mining, and even a huge palm plantation.



Countries / Territories